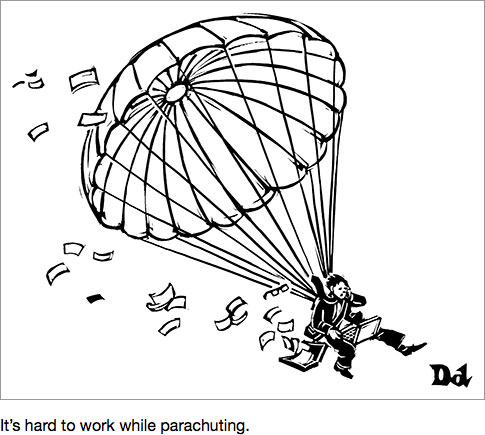 More.
Unfriend, Write, or Die
Wow, the point this post makes… it's beautiful.
Still; I won't take his advice literally, since I probably can't find six friends that I've added with whom I'm not engaging with. I do try my hardest at that sort of stuff.
What determines influence?
Quora. Wikipedia for discussions. I love it. But what's not to love? It's not perfect, for sure. But it fills a gap and my bet is, that it will stick. But that's not what I wanted to discuss.
It wouldn't be a bad idea from a professional standpoint to start contributing to Quora in order to flex my professional knowledge. Great for personal branding and marketing, right? But very difficult. You can't position yourself in any other way than simple being exceptional. Because if you write shit, at best no-one will notice you. Probably not even if you are a little better than mediocre.
And becoming really good at starting widespread threads? Also very difficult. If you master this, you'd be pretty much qualified as a social media natural, I guess.
But for me - and this is strictly a personal observation - where should I find the time. My schedule is tight as hell. And my regimen with WordPress and Google Reader with the occassional Twitter and Facebook - it's rock solid. Should I put Quora in there somewhere as well?
I would love to see a function which heps me to aggregate my stuff to my blog in a forum that contains only the threads in which I am participating. And then I could maybe just javascript that shit into place on a tab or something on my blog.
Or even a simple RSS might do, actually. Anyway.
Sökmarknadsföring och SEO - Vem gör vad? [SWE]
Jag fick frågan av Christofer och kastar mig därför in. Och ja, jag gillar uppdelningen. Mest för att vi behöver förenklingar av det här slaget för att göra en ganska komplex marknadsplats (och en komplex marknadsutmaning som SEO ändå är) tydlig och greppbar.
Om jag ska försöka tillföra något till diskussionen så går jag gärna tillbaka till en av mina gamla käpphästar, nämligen att SEO och PR måste jobba nära varandra. PR handlar ju om att hitta win-win-lösningar och tvåvägskommunikation. En del förenklar det och kallar det för publicitet eller förtjänad media.
På webben översätts detta till att hitta anledningar för människor att engagera sig i varumärken så att de bidrar med "sin ände" av tvåvägskommunikationen. I en webbvärld där organiska/frivilliga/oberoende inlänkar i allt större utsträckning blir hårdvaluta så har PR-världen verktygen, teknikerna och strategierna.
Men vad vi inte klarar är att kombinera PR-geniet med SEO-geniet. SÅÅÅ mycket länkkraft går förlorad eftersom PR-aktiviteter på webben idag så ofta inte är optimerade ur ett länkperspektiv. Jag menar, få PR-konsulter vet vad NOFOLLOW är - än mindre vad det innebär.
Jag tycker inte att det är realistiskt att kräva att alla dessa PR-genier ska förvandlas till SEO-genier - och vice versa. Vad jag tycker är att vi ska lära oss att förstå styrkan och betydelsen av våra respektive kompetenser. Det skulle kunna bli ljuv musik, tror jag. Och det har jag tyckt och skrivit länge nu.
För hellre ett PR-geni och ett SEO-geni som arbetar tillsammans, än en värld där alla "kommunikatörer" bara kan lite om allt. För det är tyvärr lite av den utvecklingen vi ser nu - att alla säljer allt lite så där halvdant. Fan, jag kan verkligen förstå att det är en huvudvärk att försöka vara en bra beställare dessa dagar…
Therese Tipsar 17 januari 2011 [SWE]
Therese Reuterswärd tipsar bra - kolla in henne.
Managing and Motivating Employees in Their Twenties
HBR is just pumping out extremely good content right now. Best set of corporate blogs around? I'm starting to think so.
When Consumers Have Questions, Do Brands Have Answers?
"Quora evokes the essence of social capitalism and in the process, introduced a new category of content creators. The system was initially closed, and through a strategic round of private beta invitations, the early rounds of users such as digerati, silicon valley elite, bloggers, celebrities, et al, set the stage for exclusivity as well as focus. Those on the outside wanted in and those on the inside desired recognition. I am not name dropping, but I am making a point. I was introduced to Quora by Ashton Kutcher. And, when I sat down recently to discuss Quora with uber blogger Robert Scoble, his response was as telling as it was validating, Quora is hot because, "all of the cool kids are using it."
A lot of infographics and explanatory texts from Brian Solis lately, but here's why I read him - this sort of analytical clarity, where he explains the ramped up Quora phenomenon in simple terms, when basically everyone else is baffled.
What You Always Need To Remember About The Internet
Great points. Via Tor Löwkrantz.
Observations & reflections from the #himc Master Class circuit
"Words have power. How we name things, how we describe things, forms our ways of doing things. This often translates into structures which mirror the perception of the description."
I couldn't agree more. Controlling messages is good. Controlling actions even better. Shaping language - communicative Godliness!
Is Twitter to blame for the Ricky Gervais backlash?
In this particular case I'm glad to be Swedish. Americans are sooo sensitive.
First of all, I don't think anyone didn't laugh at some point. I sure did, and all of my friends sent the clip around laughing their assess of. He was funny, period. Was he mean, sure. but borderline satire stand-up comedy and you can't deal with this? Come on, people.
I mean, if you think about the American media climate:
To go over the line you merely have to tell the truth about the establishment. So what else is new?
So stop wasting energy. Start marvel at Ricky Gervais amazing talent when it comes to tonality, timing, and delivery.
How Not To Look For A PR Firm #1: The Executive Assistant
I hasn't ever happen to me, but this was a very well-written text and it's main point very important.
The Biggest Mistake People Make After Receiving a Favor
Oh yes. Best post all week. And I totally agree. And - now I'm sticking my neck out here! - people born after -85 is especially bad at this. Oh man, I'm getting old, aren't I?
But even worse might be those who get help and then suddenly try to downplay its significance in order to build themselves up. Hello hello, all you un-secure people born in the seventies.
Park Here
Crazy.
Se upp till varandra med lookup.to [SWE]
Ja jösses, tjänsten rampar ju upp som Quora eller BranchOut just nu. Jag har alltid varit svag för Teds projekt - de är enkla, de är raka, de bygger på att ju mer kärlek du ger desto mer får du tillbaka, det finns ofta ett inslag som kittlar "den inre narcissisten", ja de är väldigt rätt hela tiden.
En vacker dag kommer Ted att släppa något som blir ett monster - på ett bra sätt. Det är mitt tips.
Årets lista [SWE]
Bubblare på min ära.